Spike GT Roller
Spike GT Roller
Product code
46-52863-342-08M
46-52863-343-08M
Safety class
EN ISO 20345: SB SRC A P FO CI WRU
Penetration Resistant Midsole
Steel
Sole material
Single Density PU
Upper material
PU coated leather, Nubuck
A breathable upper and waterproof split leather and nubuck, as well as a leg section crafted from water-repellent fabric and the new Boa M4 fastening mechanism. The lining combines fleece and the breathable Gore-Tex Sportive lining, whilst the soles feature the shock-absorbing and strain preventing Dual Comfort insole, to reduce the impact of knocks, both in the heel section and under the ball of the foot. The reflective tab at the back increases safety.

Load a printable productimage

Steel
The toecap protects toes from falling objects and compression. Meets the requirements of the EN ISO 20345:2011 standard: shock resistance is 200 J and resistance to compression 15000 N.


Steel
The steel midsole, prevents sharp objects from penetrating through the sole. Meets the requirements of the EN ISO 20345:2011 standard: resistance to nail penetration is 1100 N.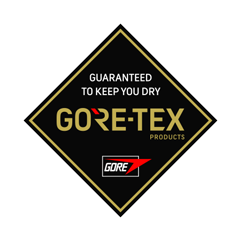 GORE-TEX®
Everybody knows that the excellent breathability and water resistant properties of GORE-TEX® are second to none.
GORE-TEX® lining is a unique material, which allows the feet to breathe but at the same time keeps moisture out. Sievi
GORE-TEX® Performance Comfort footwear is recommended for changing and wet conditions.

Single Density PU
The footwear sole is made of FlexStep® material. This single
density microporous structured polyurethane sole offers very
high slip-resistance and fl exiblity providing excellent shock
absorption.

Spike stud mechanism
A stud mechanism integrated in the footwear sole construction enables you to turn the studs in and out when the
weather conditions change, without the need to remove the shoes.

Antistatic
Footwear designed with antistatic features, discharges the
body's static electricity up to tolerances of 100 kΩ - 1000 MΩ.

BOA® Fit System
Delivering fit solutions purpose-built for performance, the Boa® Fit System is featured in products across industries (in medical, sports and workwear) and consists of three integral parts: a micro-adjustable dial, a super-strong lightweight lace and low friction lace guides. Each unique configuration is engineered for effortless precision delivering a connected, fast, customized and durable fit, and is backed by The Boa Guarantee.

Sievi Dual Comfort
The Sievi DUAL Comfort insole has shock absorbing cushions made of PORON® material which adds comfort to your feet and back.


Water repellent
The upper material used in this footwear is water repellent. Its water resistance meets the requirements of the EN ISO 20345:2011 standard.


Resistance to oil and many chemicals
Sievi's sole resists oil and many chemicals. The oil resistance of Sievi footwear meets the requirements of the EN ISO 20345:2011 standard.