The Largest Investment in Sievi's History – for the Benefit of Our Customers
The Largest Investment in Sievi's History – for the Benefit of Our Customers
Sievi's expansion project was designed with our customers in mind – we want to continue to make sure that Sievi products are delivered to our customers quickly and efficiently. The expansion of our production facilities allows us to recruit more employees and acquire new production technology.
Sievi started the expansion project in spring 2020, and it was completed in summer 2023. The expansion is the largest investment in Sievi's history: in terms of automated warehouses and production facilities, the area of the Sievi factory increased by a total of 5000 m². The expansion also increased the footwear storage capacity by 100,000 pairs, bringing it to a total of about 260,000 pairs. The total volume of the footwear storage space will be almost 20,500 mᶾ after the expansion. Despite its massive size, Sievi's warehouse system is the most flexible industrial-level storage system in the world. It is possible to take individual pairs of footwear out from the automated warehouse.
A large stock guarantees fast deliveries
The biggest beneficiaries of the expansion are our customers, as a larger stock of footwear guarantees security of supply even during periods of high demand. Thanks to Sievi's increased capacity, our retailers can keep their stocks of Sievi products small, which allows for fast stock turnover. A small stock of products also means more financial security for our retailers as they don't need to tie up as much capital in stocked products but can order and receive products more quickly. Sievi promises to despatch within 24 hours. The increased storage capacity supports this principle and ensures that it works even in busy periods. The significant increase in footwear stock also makes it possible to deliver large orders quickly and even more reliably than before.
We also do our part in keeping our products flowing: efficient streamlining of the production processes ensures that we do not have old pairs in stock but manufacture footwear according to demand and season. We are able to send out up to 10,000 pairs of shoes during just one shift! Our shoes and boots are delivered in boxes made partially of recycled materials.
We have also expanded our popular labelling service with the introduction of the new warehouse system. Customers can provide us with the names of the end-users when they submit their orders, and we will stick name labels on the shoe boxes at the packaging stage. This makes it easier for the recipients to handle their orders, especially if there are shoes for several persons in the same delivery.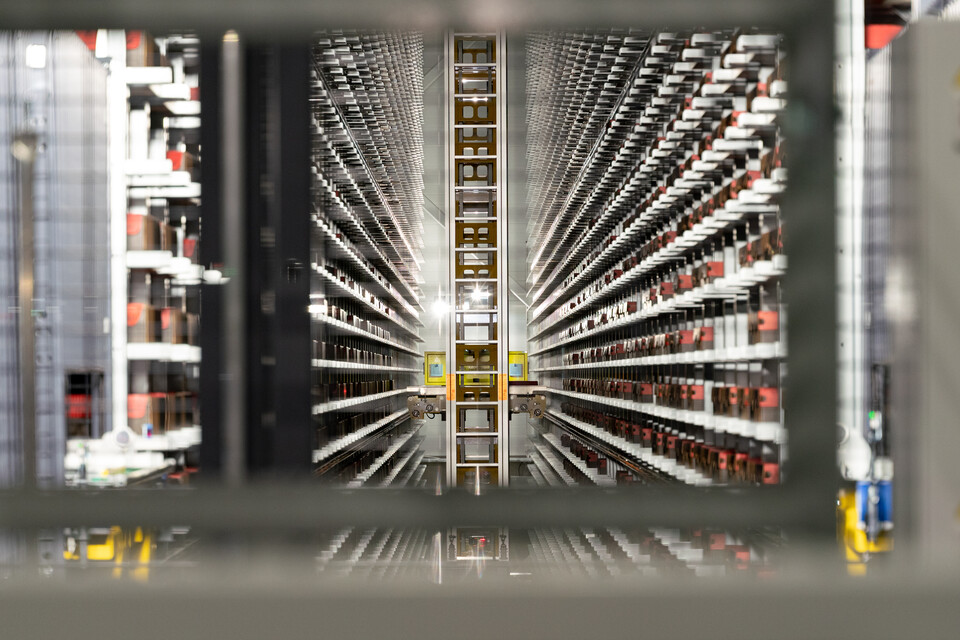 The expansion of the raw material storage keeps manufacturing going
When the Sievi factory was extended, a completely new, automated pallet warehouse was built with room for about 2,000 pallets, and the floorage of the production facilities was also increased. Expanding the raw material stock improves efficiency in Sievi's production line as global crises and other disruptions will not affect our production in the short term, as we can maintain a larger stock of all materials. All of Sievi's footwear is manufactured at our factories in Sievi and Oulainen, so increasing the space for storing materials also increases production reliability. The expansion allows for very flexible production, which we can adapt quickly according to demand. Together with the expansion, the most significant factor behind the flexible production process is the fact that our products are made in Finland.
Sievi – Made in Finland.