Mark
Mark
Sole material
Single Density PU
Stylish, narrow shoe for men made of soft calfskin with a shiny finish. Sievi comfort insole is full-length and provides comfort, and FlexStep® sole is made of a flexible material that eliminates stress to the feet and spine. Metal-free and ESD-approved model.

Resistance to oil and many chemicals
The footwear sole resists oil and many chemicals. The oil resistance of Sievi footwear meets the requirements of the EN ISO 20345:2011 standard.


Antistatic
Antistatic footwear releases in a controlled manner static electricity accumulated in the body. The resistance limits are 100 kΩ - 1000 MΩ.

Shock-absorbing heel
Shock-absorption of the heel is a requirement of EN ISO 20345:2011 and EN ISO 20347:2012 standards: the shock absorption of the footwear must be at least 20 J. In all Sievi footwear the cushioning effect is guaranteed by the use of FlexStep® sole material, see FlexStep® for more information.


Single Density PU
The footwear sole is made of FlexStep® material. This single density microporous structured polyurethane sole offers very high slip-resistance and flexibility providing excellent shock absorption. Heat resistant up to 120°C.

Metal free
No metal parts are used in the footwear and metal detectors do not react to them.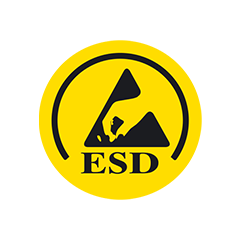 ESD
Through its sole construction, ESD footwear provides a safe and controlled method of discharging the body's static electricity. The resistance limits 100 kΩ - 35 MΩ for the Sievi ESD footwear are stricter than for antistatic footwear (IEC 61340-5-1). Wearing ESD footwear can help you avoid damage to sensitive electronic equipment.

FlexStep®
The microporous FlexStep® sole material developed by Sievi maintains its excellent shock absorption and flexibility in freezing conditions. The structure of the FlexStep®flexible sole prevents strain on the feet and spine and absorbs shocks. The FlexStep® flexible sole is featured on all Sievi footwear.