Sievi Dual Comfort Plus XL: Extra High Arch
Sievi Dual Comfort Plus XL: Extra High Arch
Dual Comfort Plus insoles are constructed of a pleasant surface material, a breathable and quickly-drying mid-layer as well as a shock-absorbent EVA bottom layer. The PORON® shock-absorption cushions at the heel and ball-of-foot reduce external shocks. The insole also benefits from a SieviBalance® arch for added rotational rigidity. Antistatic and ESD approved. Hand wash.

XL-last
Sievi XL ranges. These extra wide styles offer more space and
comfort for the wearer. For footwear with XL width fi ttings see
"XL" in the product name.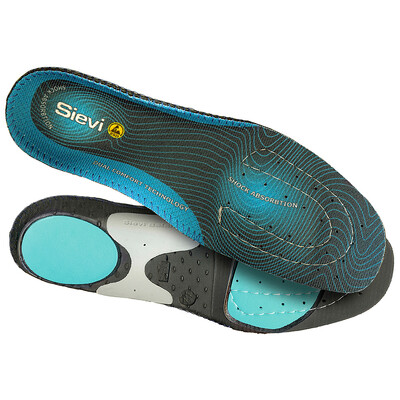 Size

Product

GTIN

39

00-99562-003-00H

6438157161796

40

00-99562-003-00H

6438157161802

41

00-99562-003-00H

6438157161819

42

00-99562-003-00H

6438157161826

43

00-99562-003-00H

6438157161833

44

00-99562-003-00H

6438157161840

45

00-99562-003-00H

6438157161857

46

00-99562-003-00H

6438157161864

47

00-99562-003-00H

6438157161871

48

00-99562-003-00H

6438157161888